Another blog party! I just get so much fun out of these. And I caught it just in time, too! I found this one through Kellie at A Maiden's Musings, who hosted the last lovely blog party (and I hope she does it again very soon, hint hint ;)). She also has the dearest store (and I'm aching to get that Bibliophile button)! Anyway, here I go!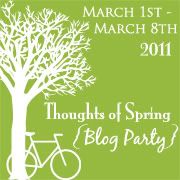 How would people describe your personality? (If they could only use ONE word.) Are they right? Hmm...either quiet or romantic. And yes, they would be right.
Who is your favorite blogger? Why? Well, I'm (fairly) new to meeting people through blogging, and I don't know very many people very well. They all seem so nice and I love their blogs! :) But my favourite blogger would be Elise at Ribbons of Light, because I agree with pretty much everything she says and her blog is so beautiful and welcoming. Her blog posts make me smile. We've slowly become better and better friends and I really enjoy our talks. :)
What is your comfort food/drink? I love chocolate! As to drink, Bengal Spice tea is the new favourite.
Be brave – tell us something very random and weird about yourself. I used to sleep like Pippi Longstocking...but that isn't a current oddity. How about this; I can't play the piano and talk simultaneously, but I can play the piano and sing at the same time.
Do you have a strong desire to do something you've never done? What is it? I would love to travel somewhere and stay there for a while, maybe a few months. Then I could get a real feel for the place.
Movies: Action, Drama, Romantic Comedy, Documentary, Comedy? What are your favorite genres? I love any movie that touches me and has good morals, characters worthy of emulation, and a good storyline. If it can make me laugh, cry, smile, and leave feeling warm and fuzzy inside, it's a favourite. However, the genres I tend to bend towards would be adventure/romance/period drama.
Books: Fiction, Non-Fiction, Romance, Biographies, True Stories, Self-Help, Devotional/Study? What are your favorite types of reading material? I absolutely love fairytale retellings, but I also love
classics. Eh, here's the
list :)
Music: Funk, Rock, Country, Jazz, Classical, Film Score, Blues, Classic Rock, Crooner, Alternative, Heavy Metal, Techno? What are your favorite types? I love classical music, soundtracks, Disney songs, Taylor Swift country, swing, Celtic music; anything happy or beautiful or moving.
If you inherited a million dollars, what is the first thing you would do with your money? Not to sound a goody-two-shoes, but I would give half of it away to an orphanage in Mexico for young boys. I've been there and they need it so much more than I do. With the rest of it, I would build my dream home, described in my last blog party post.
Name one weakness of yours (confession is good for the soul). I tend to stay up too late...it's just that the night is so bewitching! I love the quietness and calm and the beautiful stars.
If you could live anywhere at all (and take all your loved ones with you), where would you go? Nowhere. I would stay right here. I'm perfectly happy in our little house, with my family around me, my friends (most of them) close by, and no shortage of trees, brooks, mountains, or scope for the imagination.
Strange Talent? Can you juggle basketballs, put your legs behind your head or perform some other strange feat? Ermm...I have double jointed thumbs. Does that count?
What's something you consider yourself to be good at? (Don't worry, it's not bragging, it's acknowledging a God given gift). Writing, I suppose. I do need to practice more, though!
What is one of your favorite things to catch a whiff of? Freshly baked bread!
When you leave a social gathering, do you wish: You would have talked more or You would have talked less? Talked more. Yup, I'm a shy one.

If money wasn't a factor, what stores would you shop in? Amazon! And Etsy shops :) And used book stores!
What is your greatest fear or strange phobia? I used to be dead scared of the sound mosquitoes make. But now, I'm mainly scared of the lack of morals in our world and how what morals are left are slowly deteriorating. I'm afraid of bringing my children up in that kind of atmosphere.
What is your greatest accomplishment? Overcoming a long spiritual struggle.
What are your favorite animals? Cats. Lovely, furry, cuddly creatures. And their purrs! Heaven.

Are you a hopeless romantic? I am a romantic in the extreme, but as Kellie has mentioned, not hopeless!
What movie or book character can you most relate to? Good question! Probably Elinor Dashwood; I tend to bottle my feeling up inside and vent them where no one can hear/see me. Or Catherine Morland...I have an overactive imagination. :)